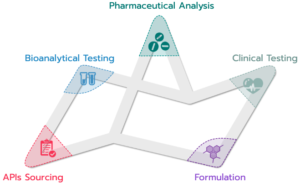 Quinta Analytica is a global provider of high quality services in the field of drug testing, clinical studies and bioanalytical services, regularly audited by the Czech State Institute for Drug Control (SÚKL); it is GMP, GLP and GCP certified and has successfully passed 10 FDA audits.
The services of Quinta Analytica include:
Pharmaceutical Analyses: research, development and validation of methods, quality control, stability studies
Clinical Trials: complete clinical (Phase I) study services include the actual clinical, bioanalytical, pharmacokinetic and statistical evaluation, as well as bioequivalence, pharmacokinetic and pharmacodynamic studies conducted in a fully-equipped facility with 60 hospital beds and Bioanalytical Lab.
Formulation: Design and Optimization of formulations for dosage forms, Stability of the products, Bioavailability of the active ingredient, Chemical and physical parameters of the dosage form, Pre-formulation, publication research, Design and formulation of the dosage form (solid, semi-solid, liquid forms), Design of a suitable packaging material for the given dosage form, Accelerated stability and Natural stability studies.
Bioanalytical Lab: Analytical service for clinical and pre-clinical studies including statistical evaluation, featuring state-of-the-art equipment, like HPLC/MS/MS devices to determine active substances and metabolites in different biological matrices and nine modern LC/MS/MS devices with triple quadrupoles, six of which with a 2-channel HPLC system. The capacity of the Bioanalytical department is up to 3750 analyses of biological samples per day.
API Sourcing: broad portfolio of active ingredients from reliable and approved manufacturers guaranteed by Quinta Analytica
Sourcing or synthesis of impurities, standards, metabolites.
GMP Packaging / Labelling for stability studies and clinical testing
Module 3 audit

IMPD

Compilation
Monitoring of studies
Pharmacovigilance
Regulatory affairs
Registrations of generics in Russia
…And more!
Please enquire with us for more information through our contact form or send us an e-mail.